Learning and Development (L&D) is a vital aspect of HR management, aimed at aligning employee skills and performance with a company's goals. L&D professionals create training programs, both offline and online, to nurture these skills. Offline programs involve classroom sessions and practical tasks, while online courses are accessible through Learning Management Systems (LMS). These courses are assigned to employees, enabling organizations to track progress and gather feedback.
If you're new to L&D or looking to enhance your performance, we've compiled a list of the top 9 training and development appliance for your consideration. Check them out!
The TOP 9 Learning and Development Tools in 2023
iSpring Suite




Articulate Storyline 3

Adobe Captivate

iSpring Learn

TalentLMS

Docebo

Valamis

iSpring Page

Microsoft Teams
There are some useful features that each tools bring to users:
1. iSpring Suite: Power Your eLearning with Simplicity
Unlock the potential of your eLearning content effortlessly with iSpring Suite. This versatile authoring tool seamlessly integrates with PowerPoint, empowering you to create engaging and interactive courses.
Here are some of iSpring Suite's features:
Assessments: Effortlessly generate quizzes and surveys featuring diverse question formats to assess learning advancement and collect valuable input.
Screencasts and Video Lectures: Produce captivating training videos through the integrated video studio, facilitating learner interaction with experts, regardless of their location.
Dialogue Simulations: Cultivate communication abilities or design captivating narrative-driven courses by employing interactive conversation modules.
Pricing: $770 per author/year
Articulate Storyline 3 stands as a robust authoring instrument crafted for the development of interactive eCourses. It boasts advanced animation and interaction capabilities, rendering it an ideal choice for experienced course creators. Nonetheless, individuals new to course development may encounter a steeper learning curve when using this tool.
The outstanding features that Articulate Storyline 3 can bring are:
Advanced Animation: It provides a wide array of animation options, allowing for the creation of visually engaging and interactive eCourses.
Flexibility: The tool permits the inclusion of multimedia elements, quizzes, assessments, and simulations, offering a versatile approach to course development.
Responsive Design: Courses can be designed to be responsive, ensuring they adapt seamlessly to various screen sizes and devices.
Pricing:  $1,398 per perpetual license
Adobe Captivate is a sophisticated authoring tool renowned for its support of Virtual Reality projects, interactive video creation, and app publishing. Its extensive capabilities make it a powerful asset, although its complexity may be better suited for experienced developers.
Here are some stregth of Adobe Captivate:
Assessment Capabilities: It provides robust assessment and quiz-building features, allowing for the creation of effective evaluations.
Rich Media Integration: Users can seamlessly integrate multimedia elements, such as audio, video, and simulations, into their courses.
App Publishing: The tool supports the creation of mobile apps, expanding the reach of learning content to learners on various devices.
Virtual Reality (VR) Support: It allows the creation of immersive VR projects, enhancing learner engagement and providing a cutting-edge learning experience.
Pricing: $33.99 per author/month or $1,299 per author/year
iSpring Learn is a user-friendly cloud-based Learning Management System (LMS) known for its intuitive interface. It accommodates a wide range of training scenarios and incorporates built-in authoring tools. Additionally, it seamlessly integrates with iSpring Suite, empowering users to develop advanced courses effortlessly.
iSpring Learn offers several advantages:
Cloud-Based: Being cloud-based means accessibility from anywhere with an internet connection, enhancing convenience and flexibility.
Built-In Authoring Tools: It simplifies content creation, reducing the need for external software.
Integration with iSpring Suite: Integration with iSpring Suite enhances content development capabilities, allowing for the creation of advanced and interactive courses.
Pricing: Plans start from $3.66 per user/month billed annually (up to 100 users)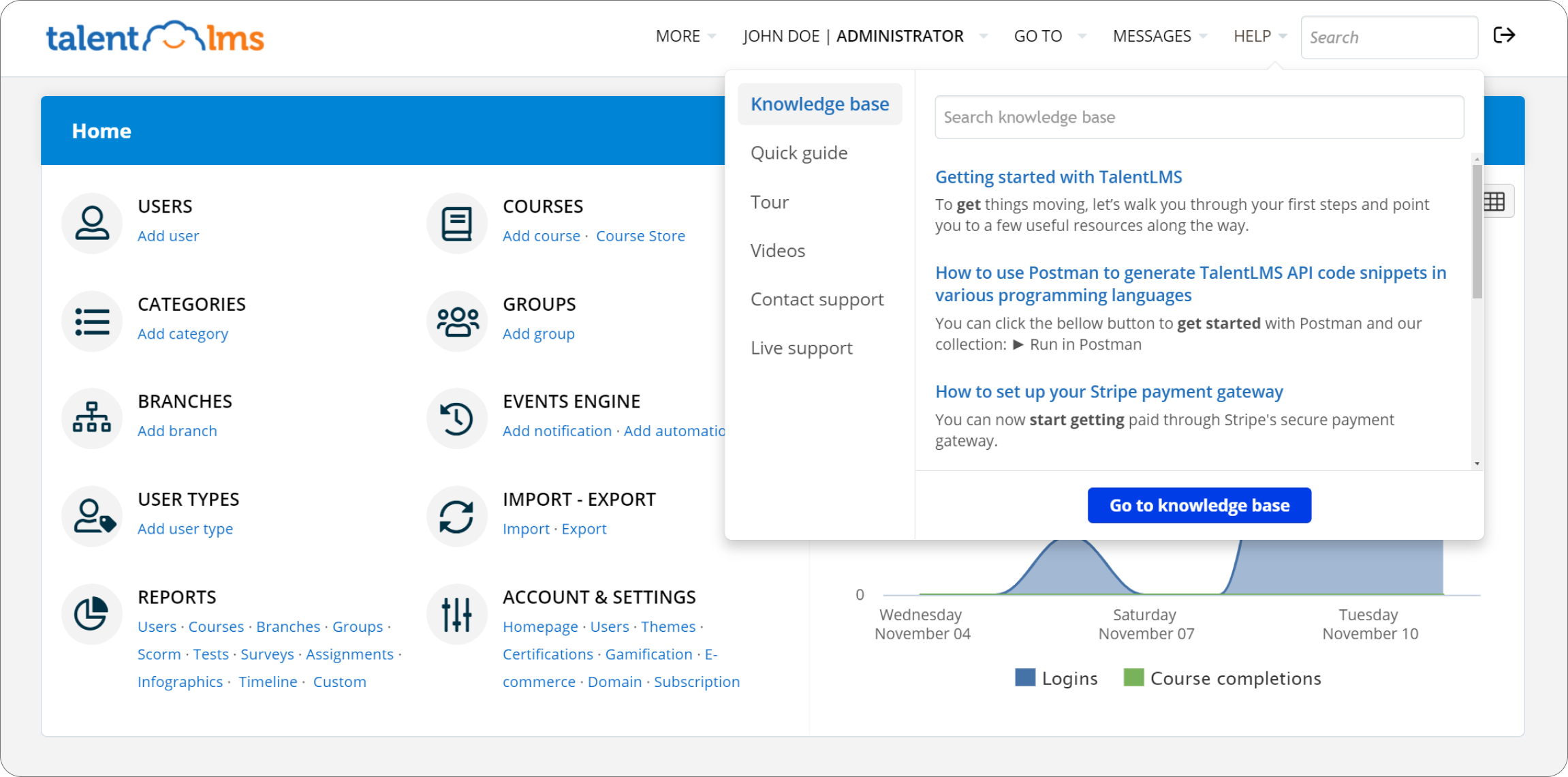 TalentLMS is an intuitive Learning Management System (LMS) equipped with fundamental features and an integrated authoring tool. Its user-friendly nature makes it an excellent choice for organizations seeking a straightforward and hassle-free learning platform.
Several advatages that TalentLMS offer:
Essential Features: TalentLMS provides fundamental features necessary for managing and delivering online training, ensuring a seamless learning experience.
Cost-Effective: TalentLMS offers cost-effective solutions, making it suitable for organizations with budget constraints.
Analytics and Reporting: It provides reporting and analytics features to track learner progress and course effectiveness.
Pricing: Paid plans start from $59/month billed annually (up to 40 users)
Docebo is a versatile Learning Management System (LMS) featuring a marketplace where courses can be purchased. It is particularly well-suited for organizations seeking to provide a diverse range of training programs without the necessity of extensive content development. Additionally, Docebo excels in fostering social learning capabilities.
Docebo offers several useful :
Course Marketplace: The inclusion of a marketplace for course purchase expands the range of available training programs, providing access to a diverse selection of content.
Diverse Training Programs: It caters to organizations seeking to offer various types of training without the need for extensive content creation.
Integration: The platform offers integration options with other software and tools, enhancing its functionality and compatibility.
Pricing:  Upon request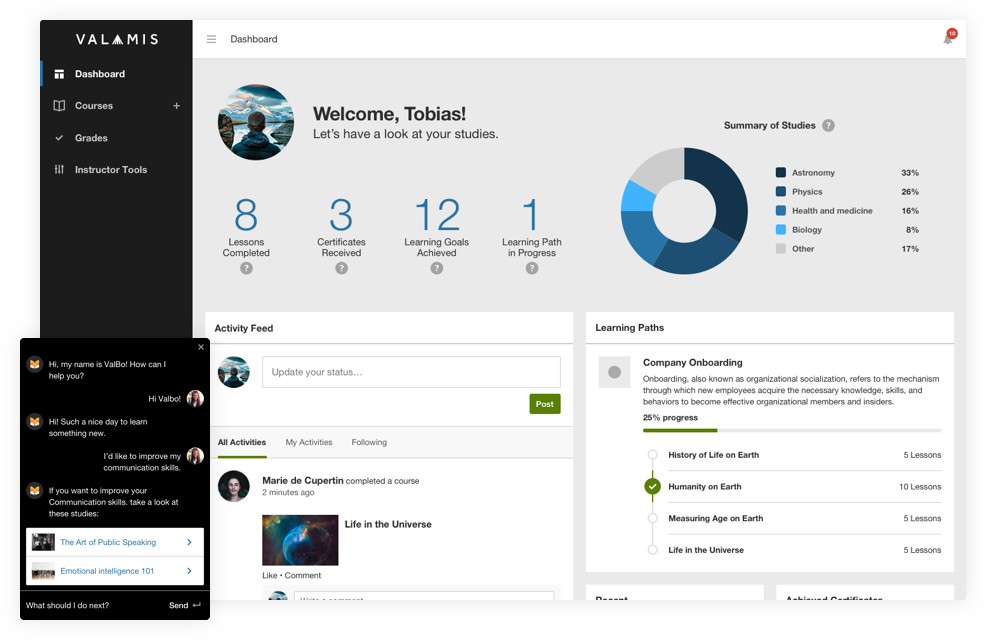 Valamis is a Learning Experience Platform (LXP) that combines LMS capabilities with an ecosystem for purchasing online courses. It focuses on individualized learning and offers AI-driven content recommendations.
Several benefit of using Valamis tool:
Combination of LMS and LXP: Valamis seamlessly integrates Learning Management System (LMS) capabilities with a Learning Experience Platform (LXP), offering a comprehensive learning ecosystem.
Ecosystem for Course Purchase: The platform features a marketplace where users can purchase a variety of online courses, expanding learning options.
AI-Driven Recommendations: The platform leverages AI technology to recommend relevant content to learners, enhancing engagement and knowledge acquisition.
Pricing: Upon request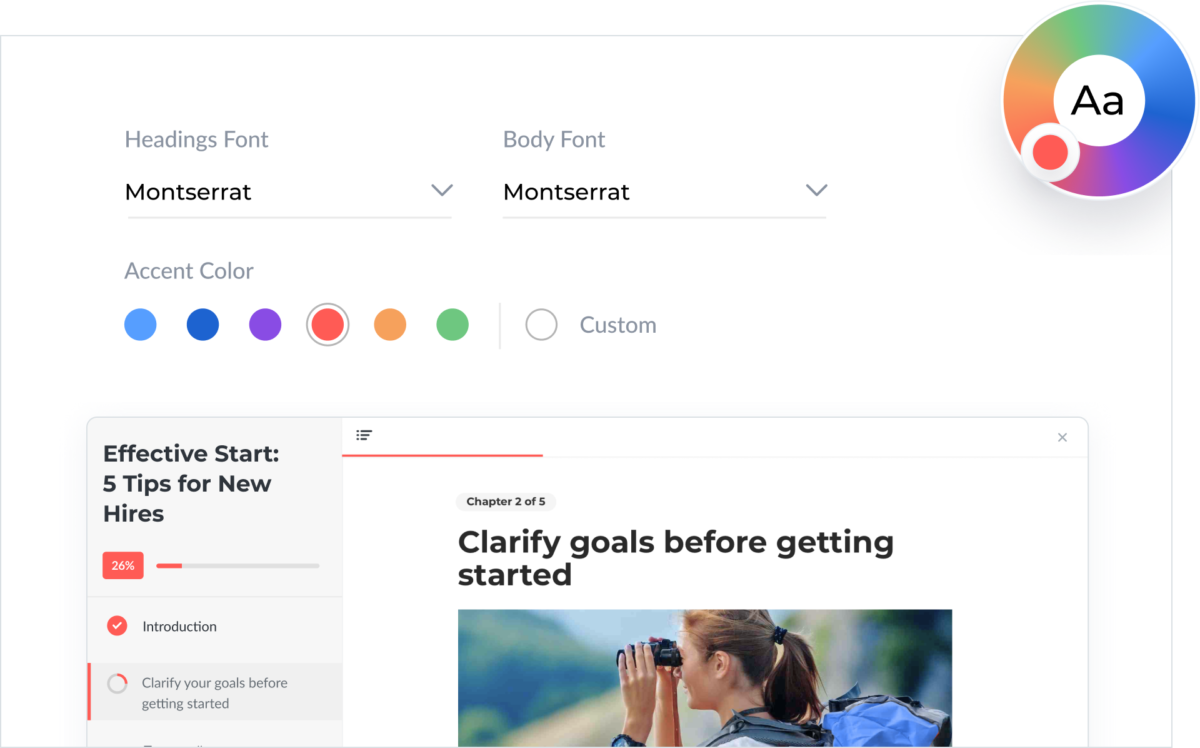 iSpring Page is a cloud-based authoring tool specifically tailored for crafting microcourses. It presents users with a contemporary and user-friendly interface, enabling the creation of bite-sized content that is visually appealing and compatible with all types of devices.
The outstanding features that iSpring Page brings :
Content Sharing: Users can easily share created microcourses with their target audience, promoting knowledge dissemination.
Collaboration: The tool supports collaboration, enabling multiple users to work on course development simultaneously.
Microcourse Creation: The tool is specifically designed for developing microcourses, making it ideal for organizations looking to deliver concise and targeted learning content.
Pricing: $97/year per author
Microsoft Teams is a communication appliance designed to streamline collaboration and engagement within online meetings. It enables participants to react, offers real-time transcription, and supports collaborative whiteboarding. Furthermore, it boasts integration capabilities with LMS platforms such as iSpring Learn, contributing to enriched and seamless learning experiences.
Some useful criteria when using Microsoft Teams:
Reaction Mechanism: Participants can express their reactions using emojis, allowing for real-time feedback and engagement.
Real-Time Transcription: The tool provides real-time transcription of meetings, ensuring that important information is captured and accessible for reference.
Whiteboarding: Collaborative whiteboarding features enable participants to brainstorm, draw, and create together, enhancing the learning experience.
Recording Capabilities: Meetings can be recorded for future reference, allowing learners to revisit content as needed.
Transparency and Engagement: The tool promotes transparency and engagement by facilitating interactive discussions and visual aids.
Pricing: Free basic plan; paid plans start from $5 user/month billed annually
Final thought
Learning and Development (L&D) play a pivotal role in aligning employee skills with an organization's goals. Each tool offers unique advantages, catering to different organizational needs and preferences. Whether you seek simplified content creation, advanced eCourse development, or streamlined communication during online meetings, these tools empower L&D professionals to achieve their goals effectively.
As you embark on your L&D journey, consider the specific requirements of your organization, budget constraints, and the preferences of your learners. With the right tool in hand, you can elevate your training programs and drive success in 2023 and beyond
Useful Resources
#10 books mastering your instructional design